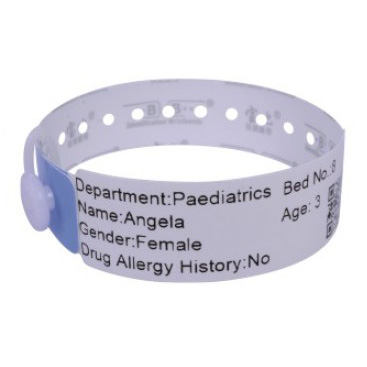 Healthcare RFID Printable Wristband (HF)
Product details
Specification Parameters
Product News
✔ won the national patent
✔Special for the medical industry
✔ Optimize processes, reduce costs, and improve service efficiency
1.Performance parameters
[Wristband size] 285*29mm
[Printing area] 100*29mm
[Chip model] FM11RF08 (support agreement ISO 14443A, Mifare Classic Support)
[heat resistance range] -20 ° C ~ +80 ° C no deformation
[Operating frequency] 13.56MHz
[Reading distance] 3-10cm (depending on the reader)
[data retention time] 10 years
[Memory] Read / Write
2. Features
Thermal printing, no consumables required; efficient and environmentally friendly, cost saving
The wristband is soft and comfortable to wear; with a soft plastic buckle, care for the patient's skin
Flexible and durable, safe and durable, can be worn for more than one month
Antibacterial and hypoallergenic, safe and reliable, the quality is assured. The chip is embedded, highly waterproof, alcohol-proof and not easily damaged.
Information encryption, unique security
One-time use, to prevent being exchanged or removed, to ensure the uniqueness and correctness of the identification object
Can print different texts, barcodes, QR codes, high-definition pictures according to customer needs
3. Advantages
The patient's name, gender, age, department, attending doctor, bed number, patient ID number (outpatient card number), hospital number are printed on the wristband via a Phoebe printer, and the patient's basic information (including the patient ID number (outpatient card number) ), gender, age, hospital number, department, attending doctor, date of admission, drug allergy, nursing precautions, diagnosis) written in the wristband, worn on the patient's wrist for 24 hours personal identification, so that medical staff in the ward care work When managing, accurately and timely check the identity of the patient and implement appropriate treatment and care.
In mobile medicine, the Baobi RFID smart wristband is directly read by medical personnel and directly scanned by Baobi PDA. The patient identification information is on-site, the patient's real-time status is checked, their medical order data is read, the medical order is confirmed, and the nursing work is recorded. Content, and accurately record the actual executor and execution time, and update the data to the Phoebe HIS system through the Plough PDA.
Hospital administrators encrypt the data in the wristband, and even if the wristband is lost, the patient's case information stored in the wristband will not be cracked by others. Effectively protect the safety of patient privacy.
Medical RFID Printing Wristband BVP14350F-HF03 performance parameter
Wrist strap size: 285*29mm
Print area: 100*29mm
Chip Model: FM11RF08 (Support Protocol ISO 14443A, Mifare Classic Support)
Heat-resistant range: - 20 ~80, no deformation
Working frequency: 13.56 MHz
Reading distance: 3-10cm (depending on the reader)
Preservation of data: 10 years
Memory: Readable/Writable Wristband Products Obtained National Patent
BAOBIWANXIANG

Leading provider of the Internet of Things industry in China,providing personnel and items identification technology, products and total solutions.It's a high-tech enterprise integrating R&D, production, sales and technical services.Totally obtain 217 patents.

Service Hotline

400-880-6887

400-880-6997

Consult Now

Hot Selling Products