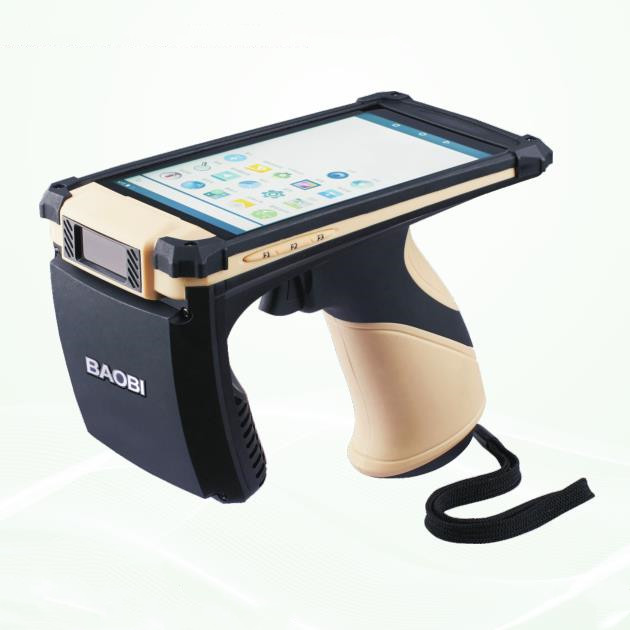 Intelligent Mobile Terminal BV7287 UHF
Product details
Specification Parameters
Product News
Latest air antenna technology
Air dielectric antenna technology,a new design concept, using air as the signal transmission medium, the antenna transmission gain is increased to 4DBI, reading distance and multi-tag recognition performance is improved by 30% compared with the previous generation of products.
High configuration computing platform
Powerful hardware configuration ensures smooth operation of massive data calculation, hardware 3D real-time display and other applications.
Android 6.0
Continuous optimization and update with the latest Android 6.0 operating system High-grade body material CNC aviation aluminum+Bayer AG's super tough nylon material body, with 1.1mm thickened tempered glass, providing unparalleled rigidity+heat dissipation+electromagnetic shielding performance. The hand joint contact parts are made of soft material suitable for a long time, comfortable grip.
Industrial-grade components
All industrial or military grade components are used to ensure continuous and stable operation under harsh environments.
Long battery operation time
6000mAh large capacity lithium polymer battery, cartridge type battery hot plugging system, easy to replace, standard with two batteries. Battery life time is no longer restricted.
Superior UHF RFID engine
Based on the Impinj Indy R2000 chip-based module, good performance and high reliability, with excellent stability and extremely strong multi-tag recognition performance.
Outstanding industrial design
The appearance is dexterous and elegant appearance, simple symmetry. Every detail has been repeatedly deliberated, and the sense of proportion is taken properly to create a body with great visual tension.
Excellent protective performance
Can withstand of a drop of 2meters to the concrete floor.IP64 protection against dust and plashing liquids.
Intelligent Mobile Terminal BV7287 UHF
I.Physical Characteristic
Body Material: CNC aluminum, PC+ABS
Size: 167mm*82mm*129mm
Handle Controller: 111mm*38mm*47mm
Weight: 580g(with battery/standard)
II.Performance
Operating System: Android 6.0
CPU: 4-core Cortex-A17 / Main frequency up to 1.8GHz
GPU: ARM Mali-T764 / High performance 3Dengine
RAM+ROM: 2G +32G / 4G+64G(optional)
Display: 5.0 inch / Resolution 1280*720 / IPS /180 degree perspective
Touch Panel: 1.1mm thickened tempered glass/10 dot touch/support for gloves touch
Battery Hot Plugging System: Cartridge type battery hot plugging system
PSAM: PSAM*1/TI TCA5013 controller(Optional)
Buttons
Power/Volume 3ALPS buttons/Operating force
2.5N/Operating life 1 million cycles
Scan Trigger OMRON button/Operating force
1.27N/Operating life 10 million cycles
Power Supply: 6000mAh large capacity lithium polymer battery
Scalability: Micro SIM Slot*1/PSAM Slot*1
USB Interface: Micro USB/MOLEX connect/1 million plug life time
Speaker: Support
Vibrating Motor: 10mm button motor
Charging Indicator: LED
Camera:13 megapixels/automatic focus/flashlight
III.Data acquisition
1D Barcode ( Optional)
Scanning Engine: Motorola EM1350
Support Type: UPC/EA Symbol SE955N/Code128/Code39/Code93/Code11/Interleaved 2 of 5/ Discrete 2 of 5/Chinese 2 of 5/Codabar/MSI/RSS etc.
2D Barcode(Optional,support 1D and 2D)
Scanning Engine: NLS EM3396 / Zebra SE4750
Support Type: Data Matrix/QR Code/Aztec Code/PDF417/US Planet/UK Postal etc.
UHF RFID
Engine:Based on Impinj IndyR2000
Buzzer:12*9.5mm/2300±300Hz
Protocol Standard: EPC Global UHF Class 1 Gen 2/ISO 18000-6C/ISO 18000-6B
Working Frequency:902-928Mhz,865-868Mhz (Optional
Output Power:0~33dBm
Peak Speed:>500 tags/s
UHF Antenna:4dbi circular polarized air dielectric antenna
Reading Distance:>10 meters(Testing chip:Impinj E41b)
Work Area Supports:US, Canada and other regions
Following U.S. FCC
Europe and other regions following
ETSI EN 302 208
China
Japan
Korea
Malaysia
V.Wireless Communication
WIFI: Support IEEE802.11b/g/n protocol
Bluetooth: Bluetooth 4.0
3G: Support(Optional)
4G: Support(Optional)
GPS: GPS+GLONASS
VI.Operating Environment
Operating Temperature: -20℃~+60℃
Storage Temperature: -40℃~+70℃ ,5%RH~95%RH (Non-condensing)
Protective Class: IP64
Drop Standard : Operating temperature can withstand of a drop of 2meters to the concrete floor
VII.Standard Accessories
Battery(Optional)
Power Adapter(Optional)
USB Data Cable + Charger
Lanyard(Optional)
BAOBIWANXIANG

Leading provider of the Internet of Things industry in China,providing personnel and items identification technology, products and total solutions.It's a high-tech enterprise integrating R&D, production, sales and technical services.Totally obtain 217 patents.

Service Hotline

Consult Now

Hot Selling Products