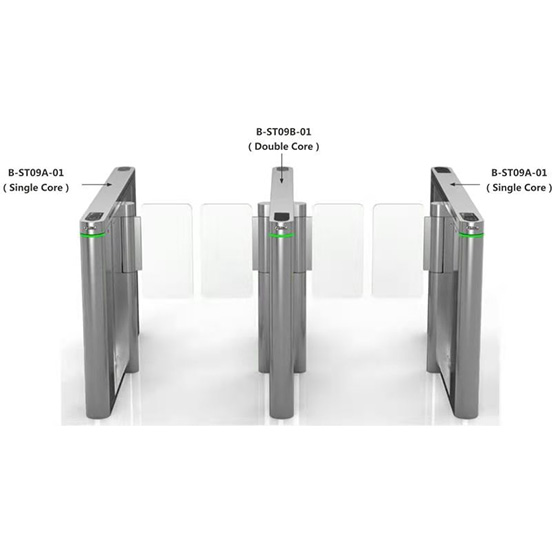 Brushless Motor Fast Access Gate B-ST09 Series
Product details
Specification Parameters
Product News
In order to meet the needs of customers to choose matching elegant equipment for the beautiful outdoor environment, BAOBIWANXIANG speed gate uses the advanced brushless motor and driving device in the industry, whether it is for access control, extraordinary response speed or channel opening and closing speed They are all very fast, running smoothly, and soft buffering, ensuring efficient and safe passage in the passage.
Features
1. Fully automatic movement and baffle adopt flexible material (acrylic), stable operation, soft cushioning and anti-pinch function.
2. After the power is off, the baffle can be pushed freely, which is convenient and stable.
3. ID card, IC card, fingerprint machine face recognition and many other recognition methods.
With a stable working movement and powerful software support, the overall system can meet the following functions in addition to normal use functions.
In a two-way passage, the software can automatically distinguish the entry or exit of passers-by.
Accurately count the number of passers-by and automatically distinguish the statistical report of the completed, entered or exited number, and the number of stranded people.
Carry out an alarm for unreasonable operations or forced entrants, and take snapshots of forced entrants.
The software completes the issuance of cards and sets permissions, and multiple permissions can be set as needed.
4. Excellent Main Control Performance
① The motherboard adopts the ARM7 embedded system as the core of the control, which has faster processing speed, powerful functions and more stable performance. It adopts full data management, easier setting and operation, and convenient for users to maintain and use;
② Various modes of access such as card swiping and door opening can be set;
③ Anti-shock function, when the gate opening signal is not received, the gate will be locked by pushing it open over a certain angle;
④ Illegal intrusion, trailing alarm, anti-reverse pass function;
⑤ Dual anti-pinch: infrared anti-pinch function, physical anti-pinch function (the door is blocked and rebounds to open when it is closed);
⑥ With card swiping with memory function (default setting without memory function);
⑦ It has the function of overtime automatic reset. After opening the gate, the swing gate will automatically close when it is not passed within the specified time, and the waiting time is adjustable (the default time is 5S);
⑧ The unified standard external port can be connected to a variety of access control equipment, and can be remotely controlled and managed through the management computer.
⑨ Automatically unlock after power off, the gate can be pushed freely, and it will automatically reset and close after power on;
Model
Brushless Motor Fast Access Gate (Single Core) Model B-ST09A-01
Brushless Motor Fast Access Gate (Double Core) Model B-ST09B-01
Brushless Motor Fast Access Gate (Single Core) Model B-ST09A-02
Brushless Motor Fast Access Gate (Double Core) Model B-ST09B-02
Technical parameter
Product Size L×W×H 1400*120*980mm
Body Material 1.2mm 304 brushed stainless steel
Baffle Material 10mm acrylic
Intermediate Partition Material 8mm acrylic
Process Standard: Laser cutting / CNC grooving / CNC bending / Precision welding and fine grinding
Operation Environment indoor
Environment Temperature -25 ℃-70 ℃ (below -10 ℃ optional temperature control equipment)
Relative Humidity Relative humidity ≤90%, no condensation
Opening Signal Relay/dry contact signal
Channel Width ≦700mm
Opening Response 0.2S
Input Power AC100~120 V 50/60Hz
Drive Motor Brushless motor 24V 30K 30W
Infrared 6 pairs Infrared
Communication Interface RS485
Passing Speed ≦35 people/min
BAOBIWANXIANG

Leading provider of the Internet of Things industry in China,providing personnel and items identification technology, products and total solutions.It's a high-tech enterprise integrating R&D, production, sales and technical services.Totally obtain 217 patents.

Service Hotline

400-880-6887

400-880-6997

Consult Now

Hot Selling Products