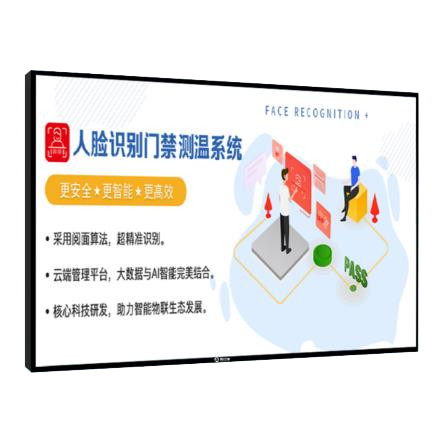 Intelligent LED Screen BLED-A55-T
Product details
Specification Parameters
Product News
Features
Full-color display, flat glue filling, good product consistency
Display in a strong black and white contrast and is distinct, and the display effect is ultra-high definition and colorful
Wall-mounted display, light and thin cabinet design, energy saving, environmental protection and cost-efficient
Intelligent display main control, support network communication, WIFI communication, support different languages and various content display
Parameter
Display Screen
Screen Level: LG, high-end commercial LED A-standard LCD screen
Screen Size: 55" TFT.LD 16:9/9:16
Dot Spacing 55′: 0.4902mm x 0.4902mm;
Resolution: 1920×1080 / 1080×1920
Viewing Angle: full viewing angle, greater than or equal to 178 degrees
Display Color: 8 bit/16.7 Billion
Brightness: ≧350cd/㎡
Contrast Ratio: 1100:1 (Typ.) (Transmission)
Response Time: ≤8.0ms
Intelligent Main Control
CPU: RK3288 quad-core
Operating System: Android 5.1
Memory: 16G+2G
Interface: Network, WIFI
Electronic Parameters
Power Input: AC 100-240V / 50-60Hz
Standby Power: ≤0.5W
System Speakers: 2 x 5W
Working Temperature: 0℃~50℃
Failure-free working hours: 58,000 hours
Service life: 60000 hours
Quality and environmental protection certification:device with CCC,ISO9001 certificate.
Accessories
Power Cord: National standard three plug 1.5M * 1
Operation Manual: ×1
Warranty Card/Quality Certificate: ×1
LOGO: Optional (Can be customized)
Installation: telescopic installation hanging on the wall
Applications
*Traffic Information Publish: used for road traffic reminder information publish, traffic knowledge publish, vehicle advertising LED display screen, etc.
*Construction site information publish: construction site personnel entry and exit information publish
*Bus Advertising: commercial advertisements, broadcast news, forecast weather, forecast movies, stock market, etc.
*School Distributed Information Transmission Application:School news, meeting notices, academic activities, school spirit, school motto publicity through Internet LED control board transmission, solves the multi campus and decentralized student information management under the condition of school expansion
*Community Broadcast Notifications: broadcast community notifications, create community culture to owners, establish community information management mode
*Trading Market: Publish trading price information through the Internet LED control board, such as prices of fruits, vegetables, steel, etc.
*Big Shopping Malls: Internet LED control board, can carry out product discount promotion, new product promotion, prize-winning sales promotion, etc.
*Catering and Entertainment Industry: Restaurants and bars use LED control board to send welcome messages, birthday messages, wedding messages, and recommendations of the store's characteristics products
*Chain Store Application: Information displayed in chain store is uniformly changed by using Internet LED control card, store information publish, and enhance the product reputation.Internet LED control board can publish information in a centralized and unified manner, and enhance the company's image!
*Digital City Application: Communicate government policy directives, news, weather, ethical conduct, legal publicity, public service advertisements, and health knowledge to the public through the Internet LED control board.
*Advertising Information Publish: use the Internet LED control board to uniformly publish information at advertising time, improve the efficiency of advertising release, and centrally manage the publish system
BAOBIWANXIANG

Leading provider of the Internet of Things industry in China,providing personnel and items identification technology, products and total solutions.It's a high-tech enterprise integrating R&D, production, sales and technical services.Totally obtain 217 patents.

Service Hotline

400-880-6887

400-880-6997

Consult Now

Hot Selling Products