BAOBIWANXIANG

Leading provider of the Internet of Things industry in China,providing personnel and items identification technology, products and total solutions.It's a high-tech enterprise integrating R&D, production, sales and technical services.Totally obtain 217 patents.

Service Hotline

400-880-6887

400-880-6997

Consult Now

Face Recognition Solution
Temperature and Epidemic Prevention Solution-Medical Institutions Application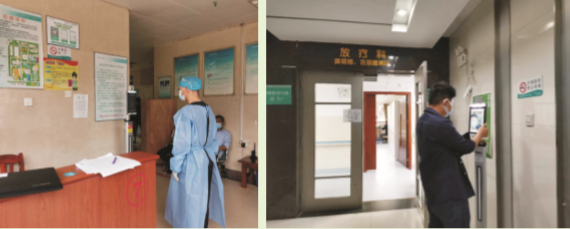 Case Blackground
The National Health Commission clearly instructed: Medical institutions at all levels and types of medical institutions should strictly implement the pre-inspection and triage system, conduct temperature checks on all personnel visiting the hospital, inquire in detail about the epidemiological history of fever patients, and improve the isolation and treatment process of fever patients in outpatient areas to ensure advance Examination and triage and fever clinics operate effectively.
At present, body temperature testing has entered normal control. Medical institutions are the first line of defense for epidemic prevention. Human body temperature testing is the first step in screening for epidemics.
Traditional forehead temperature guns and temperature measuring machines are not only inefficient in passing, but also because of the risk of cross-infection due to the close contact distance. In consideration of factors such as hospital flow and environment, to choose suitable temperature measuring instruments, AI temperature measurement technology is undoubtedly the first choice.
Case Introduction
Based on the advantages of face recognition technology and mobile development technology, BAOBIWANXIANG has launched BAOBIWANXIANG body temperature prevention and control and epidemic prevention solutions, face temperature measurement cloud system, non-sensing access control and attendance cloud system temperature measurement, and fully assisted medical institutions in the "epidemic battle" .
Ideas for deployment of body temperature prevention and control systems in medical institutions :
Improve the management system of medical entrances and exits, including body temperature screening, body temperature warning, and visitor identification and registration in special departments
The body temperature data of various medical institutions are collected through non-contact type to avoid cross-infection at close range, while ensuring the speed and accuracy of temperature measurement
Real-time push of body temperature and health status information at each temperature measurement point
Real-time monitoring of background data
Improve ward management, access health and real-time temperature check of personnel entering and exiting the ward area
Outpatient body temperature collection and triage processing provide more reference data for clinical medical disease prevention and control
Solution products
Face Recognition Temperature Measurement Access Control Time Attendance Terminal BV7257S-T10-80W
Face Recognition Cloud Platform User Background
Face Recognition Cloud Platform Device APP
Face Recognition Cloud Platform User APP